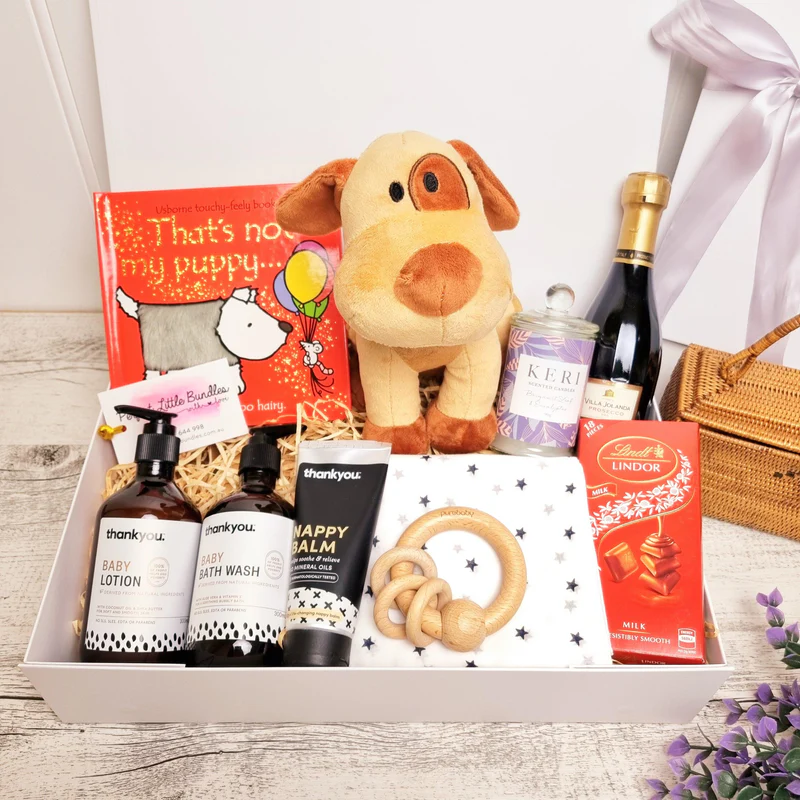 Baby Gift Hampers - A Splendid Gift for Newborn Babies
Jullian Cardinale
Do you know anyone who is about to become a parent or who has recently become a parent? If yes then you must be looking for some gifts for the newborn. What can be better than baby gift hampers? This is a lovely way to congratulate a family on the arrival of a new member. There is something suitable for everyone, whether it is a gift hamper filled with bubbly treats for deserving parents or baby clothes and socks for the newest addition to the family.
Let's take a look at the following reasons why a newborn gift hamper makes the best gifts for new parents.
#1 They Offer a Convenient Alternative to Looking For The Best Presents To Give To New Parents
The gift-wrapping process can be sped up significantly by using a hamper. They are curated by hand and designed to work in harmony with one another. We offer excellent online shopping options for baby gift hampers Australia, which is convenient for gift-givers who are pressed for time. You can put the finishing touch on it by including a personalised greeting, and the new parents will be smiling from ear to ear when they read it!
#2 There Is a Wide Variety of Baby Hamper Available That Can Work Within Your Budget
Let's face it: every one of us has to purchase presents that are within our financial means. When you go shopping for a hamper on our website, you will notice that the prices vary widely from one another.
#3 An Absolutely Breathtaking Display of Baby Gifts
The presentation of a gift can make or break its success. Many times, a show of respect and pleasure is conveyed through the artistic presentation of a gift. When it comes to giving presents to parents-to-be, presentation is just as important as it is for any other occasion. The fact that they present a lovely arrangement of goodies in an aesthetically pleasing basket earns hampers full marks for packaging. In addition to this, rather than throwing away heaps of wrapping paper, you can repurpose the baskets for use as additional storage and organisational space!
#4 There is Going  to be a Variety of Gifts
What could possibly be more enjoyable than taking the wrap off a present? Taking off the wrapping paper from a large number of new presents all at once! Unwrapping a hamper, which typically contains a veritable treasure trove of treats, is a delightful and exciting experience for the parents!
When the hamper containing the newborn baby gifts is opened, there should always be a sense of anticipation because it contains a diverse selection of presents. As a result, take a load off and imagine the look of delight on the faces of the new parents as each new item from the thoughtfully curated hamper is unwrapped and presented to them!
If you buy a baby hamper of good quality, it will not contain any items that are commonly found in retail stores. In most cases, they are stuffed to the brim with one-of-a-kind items that are extremely rare and do not appear frequently.
#5 It's a Risk-Free Option 
There are times when you invest a lot of time searching for the ideal gift but when you actually give it, it may turn out to be of no use and it is tossed to the back of a drawer! Or, even worse, they give it to another person as a second gift! But don't worry! You can avoid such situations by simply going for a baby gift hamper. In a large hamper full of delectable treats, even the pickiest eater is sure to find out at least one item that satisfies their cravings!
Wrapping Up
The wonderful thing about baby hampers is that they bring joy to the parents of the newborn. A hamper is an excellent choice for a present for new parents because it always contains something that will make them happy. Baby Hampers are a thoughtful option for baby shower gifts as well as presents for new parents. 
Are you looking for original ideas for baby gift hampers to give to new parents and their infants? We have an exquisite selection of baby gift hampers, making it simple to pick out a one-of-a-kind present to commemorate anything having to do with babies, from the announcement of a pregnancy to the arrival of a new child. You can therefore browse our collection and place an order for a baby gift hamper through our website to be the first to congratulate the new parents and send your best wishes for the arrival of their new child!