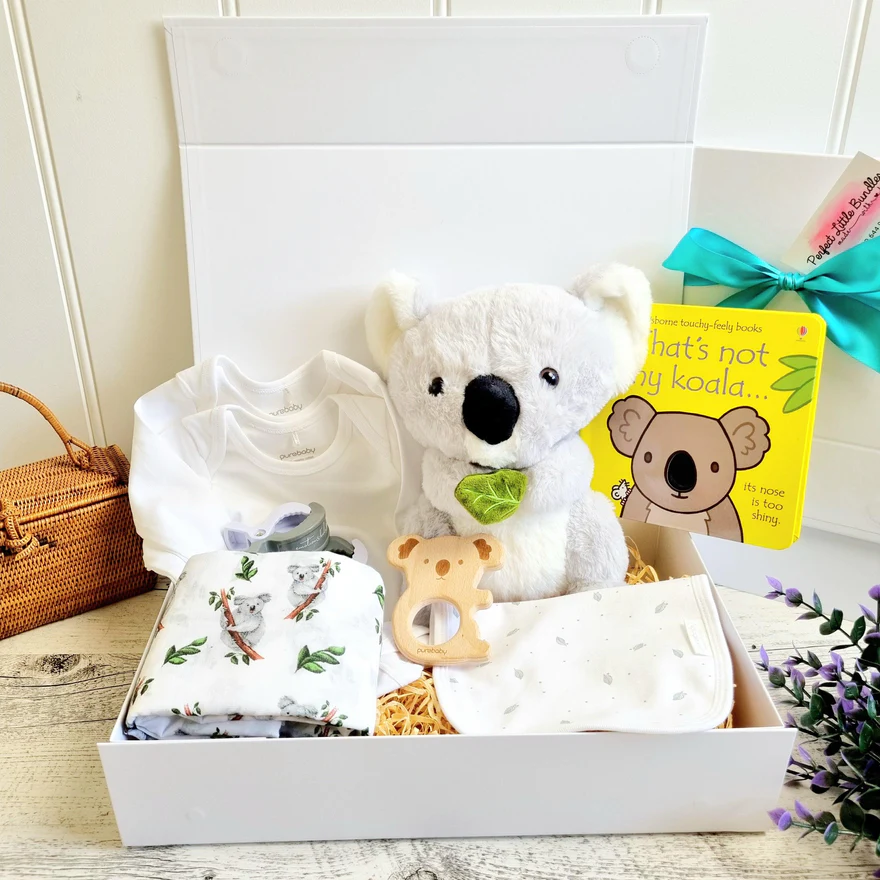 Luxurious Baby Gift Hampers for Special Occasions
SEO Team
Luxurious baby gift hampers possess the ability to provide entertainment, serve practical purposes, show thoughtfulness, or encompass a combination of these attributes. The uniqueness of each individual's work is contingent upon the specific additions they choose to incorporate. While it is possible to incorporate distinctive indulgent goods for the mother, the contents of the newborn baby hamper should mostly consist of useful and pragmatic products. This gift holds sentimental value and is likely to be treasured, contributing to the affectionate atmosphere of their recently established nursery.
The act of presenting birth gifts can serve as a means of expressing appreciation towards parents who are facing challenges in conceiving a child. This gift can also be presented to infants as a symbol of joy and a heartfelt reception.
In addition, it is possible to present baby equipment as a gift, including a breast pump, which serves as a valuable tool for expressing breast milk to accommodate the needs of employed or unable-to-breastfeed mothers. Baby food supplies can also be chosen as an attractive gift for a newborn. So if you are yet to make a choice, Unique baby hampers Melbourne from us can be an exciting way to conclude your hunt.
What Can You Include In A Baby Gift Hamper?
When considering the contents of baby hampers, it is important to carefully select items that are both practical and beneficial for the well-being of the newborn. These hampers should include essential items that cater to the needs of the baby, while also considering the preferences and requirements of the parents.
When it comes to Luxury baby gift sets, individuals are afforded full autonomy in determining the composition and financial aspects. The potential points for consideration are the gender of the baby, the season, or a personalized theme of significance. 
The below provide valuable suggestions for augmenting your baby shower gift basket, suitable for both female and male infants.
The range of baby skincare items encompasses organic baby lotions, oils, and nappy balms.

Baby bibs, bath towels, and hooded bathrobes are practical and beneficial items to consider as gifs for infants.

Infant garments encompass a variety of clothing items, including rompers, onesies, socks, and cardigans.

Infant teething rings, bath toys, rattles, musical toys, and plush commemorative teddy bears.
Commonly encountered types of books include alphabet books, bedtime stories, cherished childhood literature, and board books designed for infants.
Appropriate gifts for mothers include delectable chocolates, spa products, and personalized gifts.
A baby gift hamper basket
There exists a wide array of birth presents available for selection. One may provide the mother with a range of important equipment required for the care of her newborn, including baby clothing, pants, gloves, booties, as well as many requirements and other fundamental items.
Opt for presenting a cherished individual with our meticulously selected animal-themed baby gift hamper basket, with a color scheme of coral and white. This aesthetically pleasing basket serves as an ideal gift or memento for an infant. 
You can include the below items to make it full of love:
A photographic frame 

A handcrafted garland 

A plush toy

Organic long sleeve bodysuits in white or coral

Pram clip set

A teething ring

A beautiful picture book with different textures to develop sensory awareness
A baby girl gift hamper in Yellow
The newborn baby gift hamper Melbourne is a collection of items to present lavish baby shower surprises  specifically curated for infants, typically given as a present to celebrate the arrival of a newborn. 
The Newborn Baby Gift Hamper is predominantly adorned in the color yellow. The color yellow is commonly associated with feelings of warmth, hope, and enthusiasm. The presence of warmth is readily apparent. 
You can ensure the below items are combined to create the best hamper
A Combination of a hair and body wash, as well as a moisturizer

A nappy rash cream

A yellow blanket with a pink bib

A floppy yellow bunny or a yellow plush toy

A baby teether
Irrespective of the event, your infant will be adorable when swathed in a luxuriously soft blanket. Moreover, it is worth noting that the individuals in question are accompanied by a floppy yellow bunny. 
A baby boy hamper basket in the color blue
Opt for presenting your most cherished individual with our meticulously selected baby gift basket, delicately arranged in an endearing motif with gender-neutral elephants. The baby gift hamper basket offered is an ideal choice for individuals seeking a suitable present for a newborn, a first birthday celebration, or a naming ceremony. Every hamper contains a photo frame with a wooden elephant design, a handcrafted garland made of felt elephants, and a stuffed toy.
The Premium newborn gift hampers Melbourne for baby girls is a high-quality and luxurious assortment of items specifically curated for newborn girls.
The Premium newborn Girl Gift Hamper is designed to bring joy to parents who receive it, particularly those with a newborn girl adorned in pink. 
As a matter of creating a premium gift hamper, you can include the below items to make it more comprehensive
Baby boy Growsuit  made from 100% Organic Cotton

Singlet Bodysuits x 2, very soft, stylist and made from Organic cotton 

Organic Cotton Bibs made from 100% cotton

A soft blanket perfectly sized for little hands

Muslin Wrap and Pram Clips Set

Cotton Crochet Blankets, made with 100% cotton are perfect for special occasions and everyday use. Soft and breathable against baby's skin, a gorgeous blanket to wrap bub in, or use in their pram or bassinet.
To Summarize
Gifts are commonly selected based on their practicality and usefulness in everyday life. This is particularly true for unusual baby gift hampers, as they serve the purpose of providing essential items for the new mother to stock up on her kid's necessities. However, it is permissible to be both perceptive and creative in your approach. Luxurious baby gift hampers delivered in a hassle free way from Perfect Little Bundles.