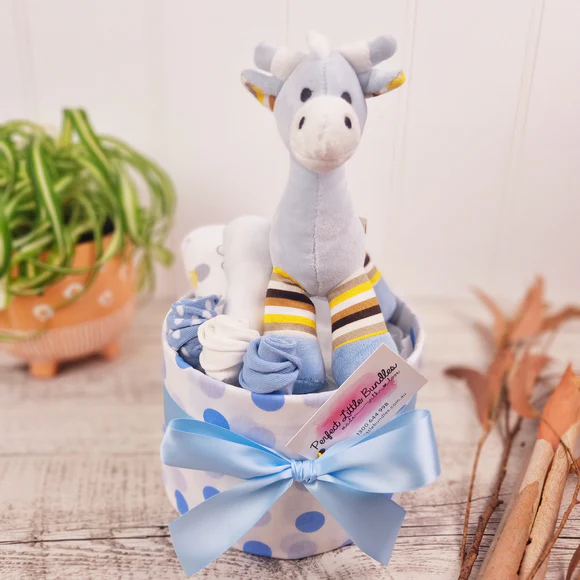 Consider the Factors When Choosing Nappy Cakes for a Gift
Cassie Joy
Selecting the perfect gift for an expectant parent or a newborn can often be a challenging endeavour. Amidst the myriad of baby products available, nappy cakes have emerged as a popular and practical choice. Thoughtfully chosen Nappy Cakes Gift not only provide essential items for the baby but also exude a sense of personalized touch. Let's delve into the various factors one must consider to select the ideal nappy cake for that special occasion.
What are Nappy Cakes?
No, it's not a dessert! Baby nappy cakes are a collection of nappies arranged to resemble a tiered cake. Typically, these cakes consist of multiple layers of rolled-up nappies, decorated with ribbons, soft toys, baby books, and other baby essentials. They are both a visually delightful gift and a practical one.
Purpose and Popularity
Nappy cakes serve as both a decorative centrepiece for baby showers and a treasure trove of essentials for the soon-to-be parents. Their increasing popularity stems from their dual functionality and the creativity they allow.
Key Factors to Consider
Choosing the perfect nappy cake involves several considerations. Here's what you need to keep in mind:
#1 Theme and Design
Is it a girl? A boy? Twins? The theme and design should match the baby shower or the nursery's theme. From unicorns and trucks to neutral themes, there's something for everyone.
#2 Size and Tiers
Nappy cakes come in various sizes. A petite single-tier cake might be suitable for a small gathering, while a grand three-tiered one would be apt for a lavish party.
#3 Material and Brand of Nappies
Quality is paramount. Opt for nappies that are soft, absorbent, and from reputable brands. After all, they'll be on a delicate baby's bum!
#4 Additional Baby Essentials
Many nappy cakes come adorned with baby essentials like bibs, teether, soft toys, and pram clip set. Ensure these are of high quality and baby-safe.
#5 Economic Factors
Yes, even in gifts, economics play a role.
Price Range: Set a budget. Nappy cakes come in a range of prices, and having a predetermined budget can help narrow down choices.

Brand Reputation: While brand isn't everything, a good brand reputation often indicates quality and trustworthiness.

Recipient's Preferences: Remember, it's a gift! Keeping the recipient's preferences in mind is essential.
Recommendations for Nappy Cakes
Here are some recommendations by Perfect Little Bundles that you must consider:
#1 The Very Hungry Caterpillar Premium Nappy Cake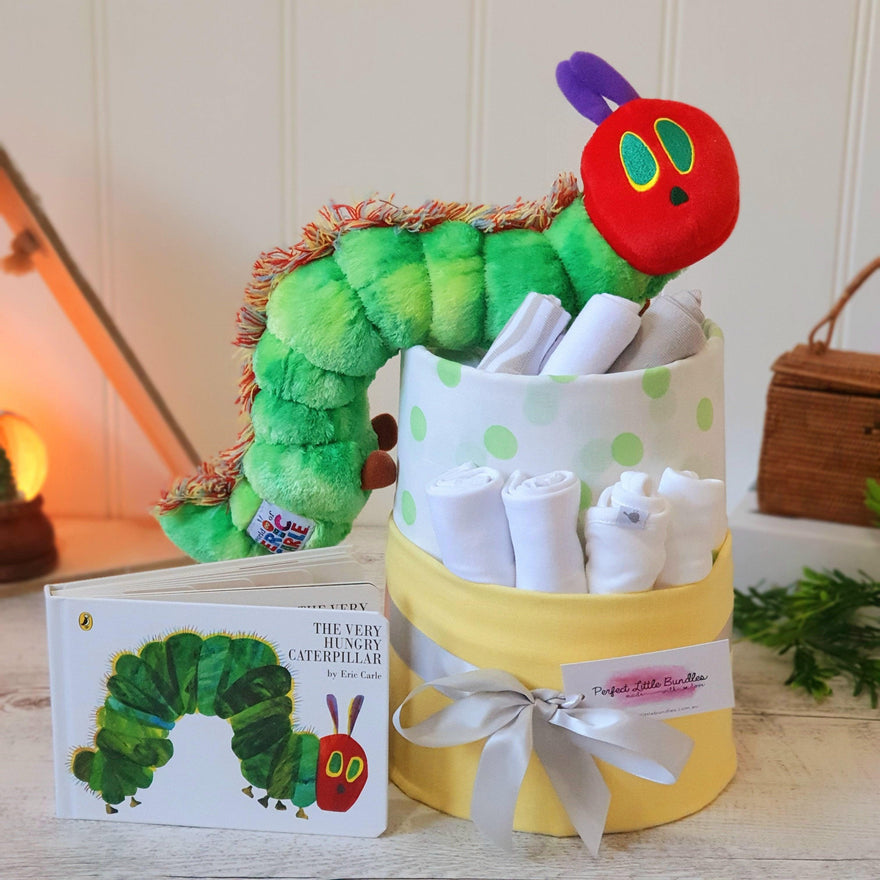 The Very Hungry Caterpillar Premium Nappy Cake is an exclusive offering from Perfect Little Bundles, designed for the discerning gift-giver. Inspired by Eric Carle's classic tale, this premium package boasts a cuddly green caterpillar plush and a board book edition of "The Very Hungry Caterpillar." But it doesn't stop at nostalgia; this bundle caters to the practicalities of new parenthood with essentials like 100% cotton newborn singlets, two baby bibs with terry towelling back, ultra-soft muslin wraps sized generously for swaddling, three pairs of socks to keep tiny toes toasty, and 22 premium nappies to ensure baby's utmost comfort. It's not just a gift, it's a carefully curated experience for both baby and parents.
#2 Peter Rabbit Ultra-Luxe Nappy Cake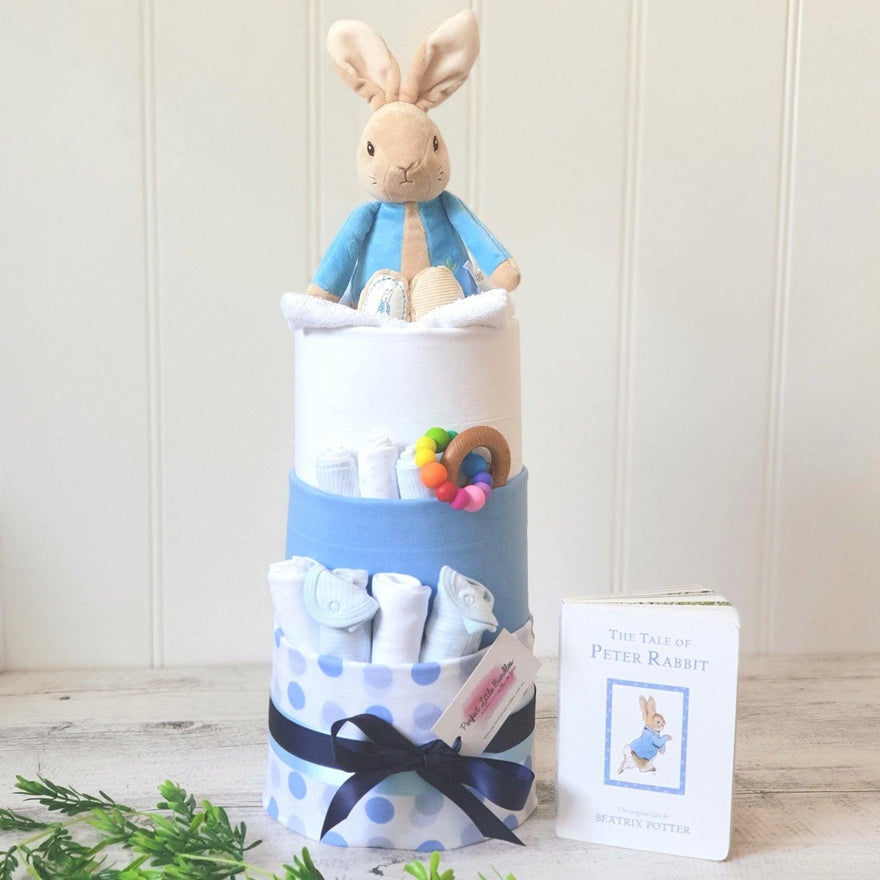 The Peter Rabbit Luxe Nappy Cake, exclusive to Perfect Little Bundles, captures the enchantment of Beatrix Potter's timeless tale. Elegantly curated, this package centres around the playful Peter Rabbit, featuring a 19cm Flopsy rabbit and a cherished edition of "The Tale of Peter Rabbit." But this isn't just about whimsy; it's an essential trove for new parents. Encased within are 100% cotton newborn singlets, two absorbent baby bibs, a colourful NatureBubz Rainbow Teether, ultra-plush Emotion and Kids muslin wraps ideal for swaddling, socks designed for the tiniest of feet, a gentle white washer for tender baby skin, and 28 premium nappies for round-the-clock comfort. A perfect gift for baby showers or welcoming a newborn, this set is a blend of nostalgia and necessities, delivered Australia-wide by Perfect Little Bundles.
Wrapping Up
Choosing a nappy cake is more than just picking a bundle of baby essentials; it's about understanding the needs, preferences, and the very essence of gifting. By considering the factors outlined, one can ensure that their gift stands out, making it memorable for both the baby and the parents. Whether it's for a baby shower, a welcome gift for a newborn, or simply an expression of love, a well-thought-out nappy cake is a testament to the thought and care put into the gift. Remember, it's the thoughtfulness that counts, and a personalized nappy cake is sure to leave a lasting impression.
Check out the collection offered by Perfect Little Bundles to explore more such baby gift hampers!