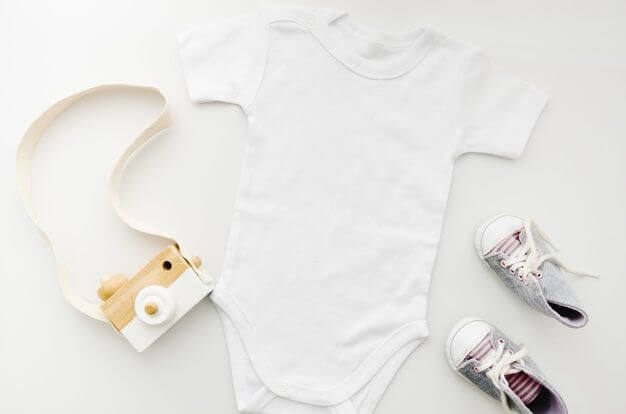 Buying baby clothes 101: Your ultimate guide to baby clothing sizes & must-haves
Jullian Cardinale
Buying clothes for someone you haven't met yet can be complicated. You don't know how big your baby will be when they're born, for starters, and making matters more difficult, babies grow at breakneck speed. The clothes you buy for them at 1 month old probably won't fit anymore at 2 months old.
To help you get confident shopping for baby clothes, we've put together this comprehensive guide. Read on for a breakdown of baby clothes sizing, and a run-down of the must-have items you need (and the ones you really don't).
Baby clothes size guide
What size clothing will you need for your new baby? The fit will vary based on weight and shape – as will growth – but here is a general guide.
| | | |
| --- | --- | --- |
| Size | Age | Weight |
| Size 00000 | Small or premature babies | 2kg |
| Size 0000 | Newborns | 3kg |
| Size 000 | 0-3 months | 6kg |
| Size 00 | 3-6 months | 8kg |
| Size 0 | 6-9 months | 10kg |
| Size 1 | 9-12 months | 12kg |
Baby clothing sizing tips
If you have a premature baby, it can be hard finding size 00000 in baby stores. You'll find plenty online!
Growsuits are great from 3-6 months – you'll still be changing a LOT of nappies so zip access works well.
Babies start on solid food at around 6 months old, so consider your size 00 clothes the first set they'll really make a mess of.
Baby clothing must-haves
Cotton singlets and singlet suits
Singlets or singlet suits are must-haves at every stage and size. In spring and summer, a singlet may be all they wear, and in winter, they provide a soft insulation layer to keep the chest warm.
Singlet suits won't ride up like singlets do, so these are great low-maintenance option.
We recommend you buy five singlets or singlet suits for a manageable laundry schedule.
Growsuits and onesies
Growsuits are extremely practical – they're easy to put on, easy to undo for nappy changes and – importantly – they look adorable.
We recommend you buy some growsuits with feet and without – onesies without feet are great for babies who are learning to walk and don't need to be slipping around on clothed feet.
Not-so-essential baby clothes
It's easy to get carried away when buying baby clothes – they're just so damn cute! But when baby will outgrow clothes in a matter of weeks, some things just aren't necessary.
Baby shoes.

 

Babies don't need shoes until they can walk, and actually, hard-soled shoes can get in the way of them learning to move around.
Designer clothes.

 

They may be stylish, but babies grow so fast that any garment will be outgrown within 6-8 weeks. Save your money for something longer-lasting.
Adult clothes for babies.

 

While jeans and suits and pretty dresses look adorable, the reason baby clothes were invented is because they're comfortable and safe for babies to wear. If you simply must have them for a photo, avoid tight waistbands, scratchy fabric, frills, and hoods and cords or ties (which are choking hazards).
Want to buy some of those essentials now? Check out our range of baby essentials for every Perfect Little Bundle of joy.