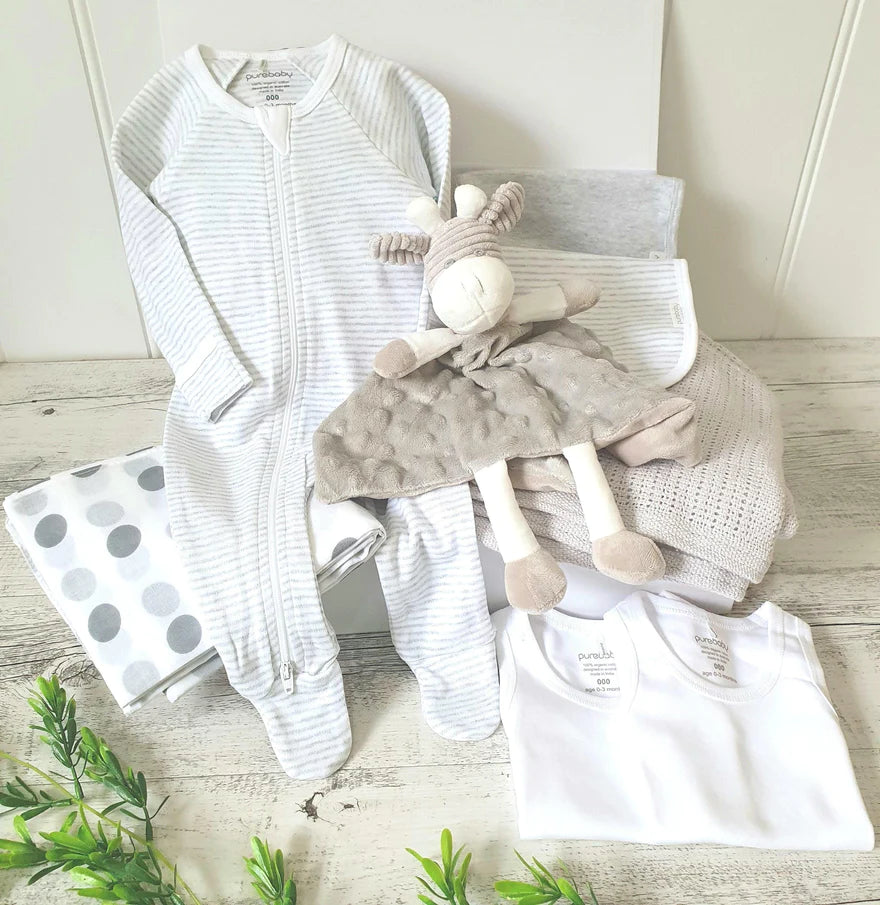 Personalized Baby Hampers: A Guide to Gifting
Fiona Cassell
Gifting is an art, and like any form of art, it's best when it's personal and meaningful. When it comes to welcoming a precious little one into the world, there's no better way to show your love and care than by giving a personalized baby hamper. These bundles of joy aren't just filled with baby essentials; they're filled with your love, care, and thoughtfulness. At Perfect Little Bundles, we take this art seriously and offer you the chance to create luxury baby hampers in Melbourne, organic baby hampers in Sydney, or baby clothing hampers in Brisbane that are as unique as the baby they're meant for. In this guide, we'll show you how to make the process easy and enjoyable.
The Art of Personalized Gifting
Personalized baby hampers are more than just gifts; they're a token of love and a symbol of your appreciation. There's something magical about receiving a gift that has been carefully chosen and customized. It tells the recipient that you've put thought and effort into making them feel special.
When you give a premium baby hamper in Australia, you're not just giving baby essentials; you're giving joy, comfort, and a warm welcome to the newborn and their family. That's what makes these hampers unique and cherished.
Building Your Perfect Baby Hamper
At Perfect Little Bundles, we've made the process of creating a personalized baby hamper a breeze. Here's how you can do it:
Selecting the Size of the Box
Our hampers box come in two sizes: Large box and XL box. Choosing the right size is the first step to creating a perfect hamper. Consider the number of items you want to include, as well as the presentation. Larger hampers are great for grand gestures, while smaller ones can be equally meaningful.
Selecting Fashion/Clothing Essentials for the Baby
One of the joys of welcoming a baby is dressing them up in adorable outfits. Our selection of baby clothing essentials allows you to choose the cutest, comfiest, and trendiest clothes for the little one. Make sure to consider the season, size, and style preferences.
Selecting Swaddles, Wraps & Blankets
Swaddles, wraps, and blankets provide comfort and warmth to the baby. You can never have too many of these. Choose from a variety of options, from soft and snuggly to lightweight and breathable. Your choices will be appreciated by both the baby and the parents.
Selecting Soft Toys
Soft toys play a significant role in a baby's early development. They provide comfort, companionship, and a sense of security. Our range of soft toys includes an array of cute and cuddly options, each with its unique charm. These companions will be cherished by the baby.
Selecting Books
Starting early with books is a wonderful gift to a child. Reading promotes cognitive development and a lifelong love for learning. We offer a selection of age-appropriate and educational baby books that can be a meaningful addition to the hamper.
Selecting Something for the Family
Don't forget about the family. Including something for the parents can be a thoughtful touch. Whether it's a bottle of Pacific Ale, hand wash + body lotion, a scented candle, wine, or chocolate bars, it shows that you care about the well-being of the whole family.
Creating a personalized baby hamper is not just about selecting items; it's about choosing pieces that fit the baby's needs and the family's preferences. It's about crafting a bundle of love that reflects your care and thoughtfulness.
Personalization: Adding a Special Touch
What truly sets a personalized baby hamper apart is the personalization. Adding the baby's name, including a heartfelt message, and selecting the right font and colours make the hamper uniquely theirs. A personalized touch shows that you've put thought into creating something special.
A Gift for Every Occasion
Personalized baby hampers aren't limited to baby showers. They're perfect for welcoming newborn arrivals, celebrating baptisms and christenings, and marking first birthdays. The choice of hamper contents can be tailored to suit the occasion. Make your gift memorable and meaningful.
The Joy of Gifting
The joy of gifting a personalized baby hamper is immeasurable. It's the happiness of giving a thoughtful and meaningful baby gift that will be treasured for years to come. When recipients open a hamper and discover the care and love you've put into it, it creates a lasting emotional connection.
Wrapping It Up
Creating a personalized baby hamper is not just about giving baby essentials; it's about giving love, care, and thoughtfulness. Use our step-by-step guide, explore various themes and styles, and add a personalized touch to make it truly special. At Perfect Little Bundles, we're here to make the process easy and enjoyable. Start creating your unique and meaningful baby hamper today.